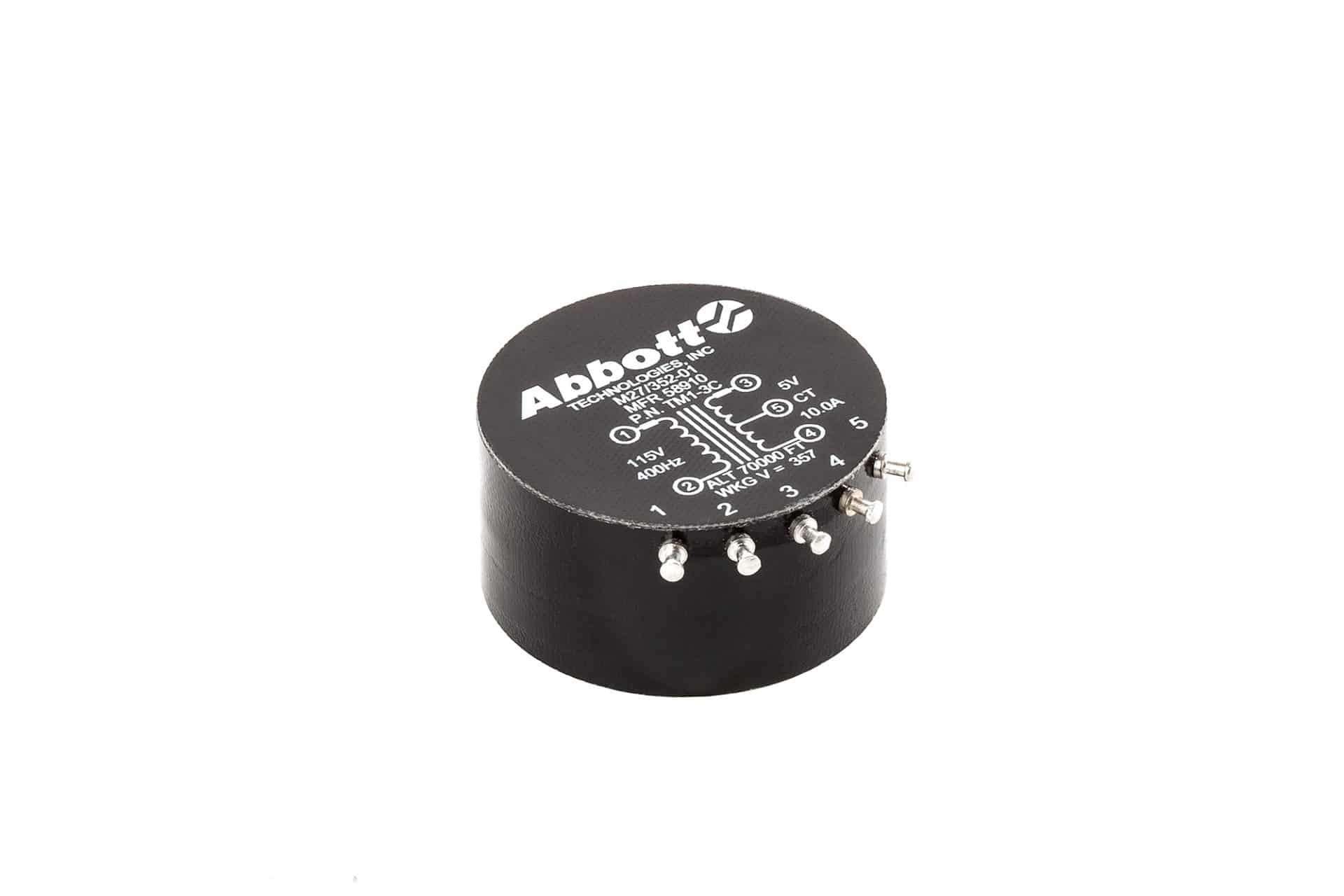 400 Hz Transformers
TM/TF Series
Category

Power Transformer

Type

Toroidal

Power Type

Single Phase, 400 Hz
TM Series Introduction
This transformer series is designed specifically for 400 Hz operation. This series offer more watts per size and weight than conventional power transformers while providing excellent regulation and low leakage inductance. The entire series is available in molded and open constructions. These power toroid transformers are ideal for airborne, space, missile, and industrial applications where small size and dependability are required.
Send us your special requirements.
Key Features
Designed for 400Hz operation
More VA per size and weight than conventional power transformers
Military Designation No. TF5S03ZZ
Industrial style also standard
Specifications
AC INPUT (VAC)

115 VAC, 1 Phase
"A" Option: 230 VAC. Add suffix "A" to model number
"C" Option: Center tapped output. Add suffix "C" to model number

AC INPUT (HZ)

400Hz ± 20 Hz

EFFICIENCY

90% to 95% typical

LOAD REGULATION

5% or less no load to full load

SECONDARY VOLTAGE TOLERANCE

Within 5% when measured at full load and listed input

DIELECTRIC WITHSTANDING VOLTAGE

1000 VAC

STANDARD POWER LEVELS (VA)

15-100 VA
Additional Power Levels Available upon Request

STANDARD OUTPUTS

5-115 VAC
Additional Outputs Available upon Request

OPERATING TEMPERATURE RANGE

Model TM: 90°C maximum.
Model TF: 80°C maximum.

CONSTRUCTION

Model TM: To meet MIL-PRF-27F*, Grade 5, Class S.
Model TF: Open frame, Industrial Grade with Teflon leads 6" long

Dimensions
Size/Style
A
B
Max Weight (Lbs.)
Insert
1M
1F
2M
2F
3M
3F
4M
4F
5M
5F
1.62
1.50
1.75
1.63
2.13
2.00
2.13
2.00
2.38
2.25
0.95
0.95
1.00
1.00
1.10
1.10
1.30
1.30
1.60
1.60
0.26
0.17
0.33
0.25
0.52
0.38
0.66
0.52
1.10
0.79
6-32
—
8-32
—
8-32
—
10-32
—
10-32
—
Dimensional Tolerance: Model TM ±.03; Model TF Dim A, B Maximum; Terminal spacing is 0.35.
Note: QPL models come with "C" Op-tion. Terminal marking located on top of unit.
Mechanical Drawings

Circuit Diagram

Standard Model List
Output Volts (FL)

Model Number
Style M
Model Number
Style F
QPL Model Number
Style M
Output Current (Amps)
Size
VA
5V
TM1-1
TM1-2
TM1-3
TF1-1
TF1-2
TF1-3
M27/350-01
M27/351-01
M27/352-01
3.00
5.00
10.00
1
2
3
15
25
50
7V
TM2-1
TM2-2
TM2-3
TM2-4
TF2-1
TF2-2
TF2-3
TF2-4
M27/350-02
M27/351-02
M27/352-02
M27/353-01
2.14
3.57
7.14
10.00
1
2
3
4
15
25
50
70
10V
TM3-1
TM3-2
TM3-3
TM3-4
TM3-5
TF3-1
TF3-2
TF3-3
TF3-4
TF3-5
M27/350-03
M27/351-03
M27/352-03
M27/353-02
M27/354-01
1.50
2.50
5.00
7.50
10.00
1
2
3
4
5
15
25
50
75
100
12V
TM4-1
TM4-2
TM4-3
TM4-4
TM4-5
TF4-1
TF4-2
TF4-3
TF4-4
TF4-5
M27/350-04
M27/351-04
M27/352-04
M27/353-03
M27/354-02
1.25
2.08
4.17
6.25
8.33
1
2
3
4
5
15
25
50
75
100
14V
TM5-1
TM5-2
TM5-3
TM5-4
TM5-5
TF5-1
TF5-2
TF5-3
TF5-4
TF5-5
M27/350-05
M27/351-05
M27/352-05
M27/353-04
M27/354-03
1.07
1.79
3.57
5.36
7.14
1
2
3
4
5
15
25
50
75
100
17V
TM6-1
TM6-2
TM6-3
TM6-4
TM6-5
TF6-1
TF6-2
TF6-3
TF6-4
TF6-5
M27/350-06
M27/351-06
M27/352-06
M27/353-05
M27/354-04
0.88
1.47
2.94
4.41
5.88
1
2
3
4
5
24V
TM7-1
TM7-2
TM7-3
TM7-4
TM7-5
TF7-1
TF7-2
TF7-3
TF7-4
TF7-3
M27/350-07
M27/351-07
M27/352-07
M27/353-06
M27/354-01
0.63
1.04
2.08
3.13
4.17
1
2
3
4
5
15
25
50
75
100
26V
TM7.5-1
TM7.5-2
TM7.5-3
TM7.5-4
TM7.5-5
TF7.5-1
TF7.5-2
TF7.5-3
TF7.5-4
TF7.5-5
M27/350-11
M27/351-11
M27/352-11
M27/353-10
M27/354-09
0.58
0.96
1.92
2.88
3.85
1
2
3
4
5
15
25
50
75
100
28V
TM8-1
TM8-2
TM8-3
TM8-4
TM8-5
TF8-1
TF8-2
TF8-3
TF8-4
TF8-5
M27/350-08
M27/351-08
M27/352-08
M27/353-07
M27/354-06
0.54
0.89
1.79
2.68
3.57
1
2
3
4
5
15
25
50
75
100
34V
TM9-1
TM9-2
TM9-3
TM9-4
TM9-5
TF9-1
TF9-2
TF9-3
TF9-4
TF9-5
M27/350-09
M27/351-09
M27/352-09
M27/353-08
M27/354-07
0.44
0.74
1.47
2.21
2.94
1
2
3
4
5
15
25
50
75
100
115V
TM10-1
TM10-2
TM10-3
TM10-4
TM10-5
TF10-1
TF10-2
TF10-3
TF10-4
TF10-5
M27/350-10
M27/351-10
M27/352-10
M27/353-09
M27/354-08
0.13
0.21
0.43
0.65
0.87
1
2
3
4
5
15
25
50
75
100