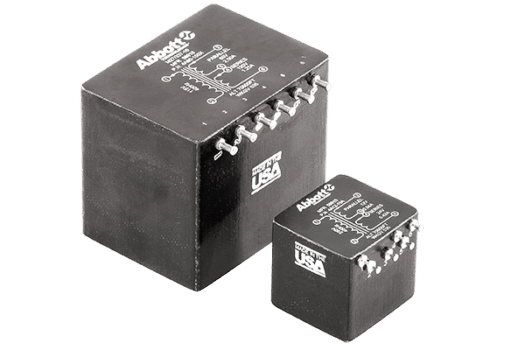 400 Hz Transformers
4A Series
Category

Power Transformer

Type

Light Weight, High Altitude, Rugged Environment

Power Type

Single Phase, 400 Hz
4A Series Introduction
Built to meet the specifications of MIL-PRF-27, long life and reliability are major features of these encapsulated, ruggedly built power transformers. Encased in epoxy fiberglass and capable of operation at high temperatures, these units have a wide variety of uses in airborne, space, and missile applications, where small size and dependability are prime factors. The 4A Series comes in power levels of 7, 10, 25, 50, 120, and 150 watts at any voltage between 5 and 120 VAC.
For 3 Phase Equivalent, see 4D Series.
This series is factory configurable; please feel free to send us your special requirements.
Key Features
Unique Design allows for additional ouputs quickly and easily
MIL-PRF-27 Grade 5 Class S Construction
Designed for Light Weight and High Temperature Requirements of Airborne, Shipboard, and Ground Mobile Applications
Specifications
AC INPUT (VAC)

115 VAC
"A" Option: 230 V AC, Add suffix "A" to model number, e.g., 4A5-50A.
"X" Option: Electrostatic shield grounded to core. Add "X" to model number, e.g., 4A5-50X.


AC INPUT (HZ)

400Hz ± 20 Hz, 1 Phase

EFFICIENCY

Ranges from 85% to 93% typical

REGULATION

10% or less no load to full load

SECONDARY VOLTAGE TOLERANCE

Within 5% when measured at full load and listed input

DIELECTRIC WITHSTANDING VOLTAGE

1500 VAC

STANDARD POWER LEVELS (VA)

7 to 150 watts
Additional Power Levels Available upon Request

STANDARD OUTPUTS (VOLTS)

5 to 120 volts
Additional Outputs Available upon Request

OPERATING TEMPERATURE RANGE

Maximum Ambient Temperature
95°C maximum (Size 1 through 6)
70°C maximum (Size 7)


CONSTRUCTION

To MIL-PRF-27 Grade 5, Class S

MATERIALS/FINISHES

Fiberglass Case, Epoxy

ENVIRONMENT

Encapsulated to meet MIL-STD 810, including vibration, shock, sand, dust humidity, saltspray, fungus, sunshine, rain, explosion, and altitude (to a vac-uum). NOTE: For high altitude opera-tion, encapsulate terminals
Dimensions
Size
A
B
C
D
E
F
G
H
J
K
1
2
3
4
5
6
7
1.37
1.50
1.75
2.00
2.43
2.81
2.81
1.25
1.37
1.50
1.62
2.00
2.12
2.25
1.31
1.37
1.56
1.81
2.10
2.43
2.43
1.00
1.12
1.25
1.50
1.93
2.21
2.21
.87
1.00
1.00
1.12
1.50
1.52
1.65
0.19
0.19
0.25
0.25
0.25
0.30
0.30
1.00
1.06
1.25
1.50
—
—
—
1.19
1.25
1.44
1.69
1.90
2.23
2.23
0.16
0.22
0.35
0.47
0.21
0.40
0.40
4-40
4-40
6-32
6-32
6-32
8-32
8-32
Dimension tolerance = ±.02, except F, G, H, J = ±.04
Mechanical Drawings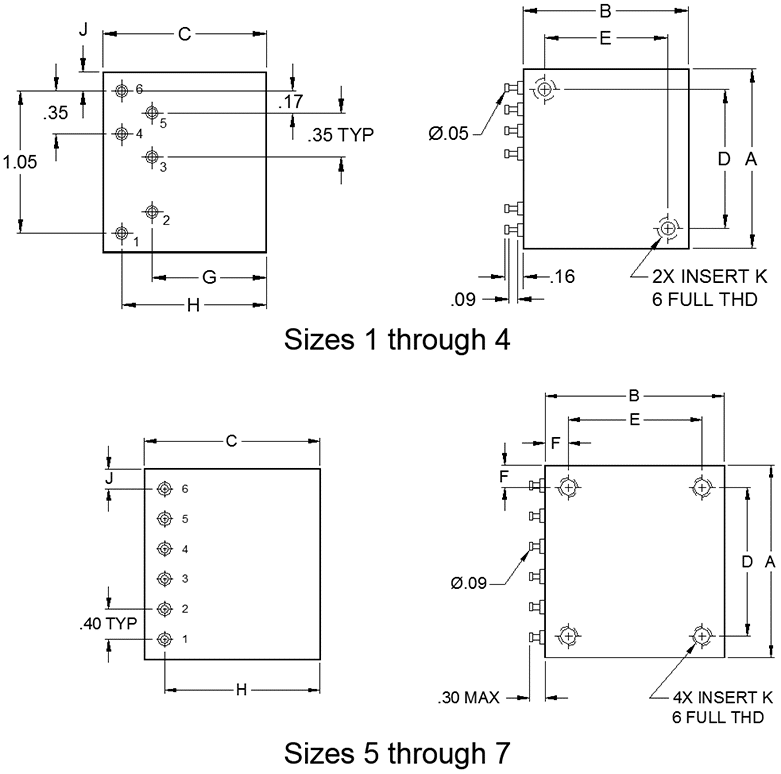 Circuit Diagram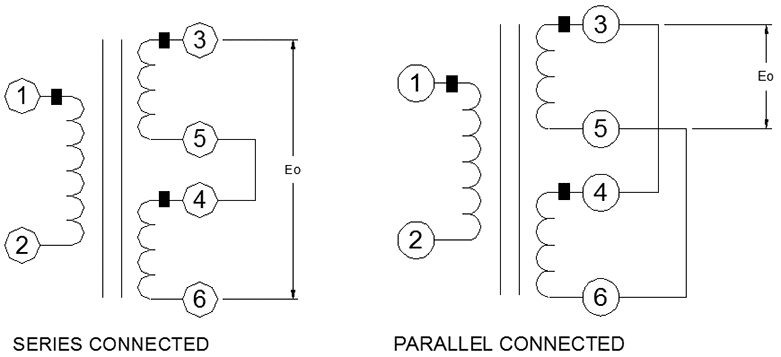 Basic Circuit
Series:  Connect 4 and 5
Parallel:  Connect 5 and 6
Load:  3 and 6
Standard Model List
Output Volts (F.L.)
Parallel Connection
Series Connection
Size
Weight Lbs. (Typical)
Model Number
QPL Model Number
5 V Parallel
10 VCT Series
1.40
2.00
5.00
8.00
24.00
30.00
0.70
1.00
2.50
4.00
12.00
15.00
1
2
3
4
5
6
0.26
0.30
0.47
0.77
1.6
2.0
4A5-7
4A5-10
4A5-25
4A5-40
4A5-120
4A5-150
M27/332-01
M27/333-01
M27/334-01
M27/335-01
M27/336-01
M27/337-10
6.3 V Parallel
12.6 VCT Series
1.11
1.58
4.00
8.00
19.00
23.80
31.70
0.55
0.79
2.00
4.00
9.50
11.90
15.85
1
2
3
4
5
6
7
0.26
0.30
0.47
0.77
1.6
2.0
2.2
4A6-7
4A6-10
4A6-25
4A6-50
4A6-120
4A6-150
4A6-200
M27/332-02
M27/333-02
M27/334-02
M27/335-02
M27/336-02
M27/337-02
M27/337-11
8 V Parallel
16 VCT Series
0.87
1.25
3.12
6.24
15.00
18.70
25.00
0.43
0.62
1.56
3.12
7.50
9.35
12.50
1
2
3
4
5
6
7
0.26
0.30
0.47
0.77
1.6
2.0
2.2
4A8-7
4A8-10
4A8-25
4A8-50
4A8-120
4A8-150
4A8-200
M27/332-03
M27/333-03
M27/334-03
M27/335-03
M27/336-03
M27/337-03
M27/337-12
10 V Parallel
20 VCT Series
0.70
1.00
2.50
5.00
12.00
15.00
20.00
0.35
0.50
1.25
2.50
6.00
7.50
10.00
1
2
3
4
5
6
7
0.26
0.30
0.47
0.77
1.6
2.0
2.2
4A10-7
4A10-10
4A10-25
4A10-50
4A10-120
4A10-150
4A10-200
M27/332-04
M27/333-04
M27/334-04
M27/335-04
M27/336-04
M27/337-04
M27/337-13
12 V Parallel
24 VCT Series
0.58
0.84
2.08
4.16
10.00
12.50
16.70
0.29
0.42
1.04
2.08
5.00
6.25
8.35
1
2
3
4
5
6
7
0.26
0.30
0.47
0.77
1.6
2.0
2.2
4A12-7
4A12-10
4A12-25
4A12-50
4A12-120
4A12-150
4A12-200
M27/332-05
M27/333-05
M27/334-05
M27/335-05
M27/336-05
M27/337-05
M27/337-14
17 V Parallel
34 VCT Series
0.41
0.58
1.47
2.94
7.06
8.82
11.80
0.20
0.29
0.73
1.47
3.53
4.41
5.90
1
2
3
4
5
6
7
0.26
0.30
0.47
0.77
1.6
2.0
2.2
4A17-7
4A17-10
4A17-25
4A17-50
4A17-120
4A17-150
4A17-200
M27/332-06
M27/333-06
M27/334-06
M27/335-06
M27/336-06
M27/337-06
M27/337-15
20 V Parallel
40 VCT Series
0.35
0.50
1.25
2.50
6.00
7.50
10.00
0.17
0.25
0.62
1.25
3.00
3.75
5.00
1
2
3
4
5
6
7
0.26
0.30
0.47
0.77
1.6
2.0
2.2
4A20-7
4A20-10
4A20-25
4A20-50
4A20-120
4A20-150
4A20-200
M27/332-07
M27/333-07
M27/334-07
M27/335-07
M27/336-07
M27/337-07
M27/337-16
28 V Parallel
56 VCT Series
0.25
0.35
0.89
1.78
4.28
5.36
7.14
0.12
0.17
0.44
0.89
2.14
2.68
3.57
1
2
3
4
5
6
7
0.26
0.30
0.47
0.77
1.6
2.0
2.2
4A28-7
4A28-10
4A28-25
4A28-50
4A28-120
4A28-150
4A28-200
M27/332-08
M27/333-08
M27/334-08
M27/335-08
M27/336-08
M27/337-08
M27/337-17
44 V Parallel
88 VCT Series
0.15
0.22
0.56
1.12
2.72
3.40
4.54
0.07
0.11
0.28
0.56
1.36
1.70
2.27
1
2
3
4
5
6
7
0.26
0.30
0.47
0.77
1.6
2.0
2.2
4A44-7
4A44-10
4A44-25
4A44-50
4A44-120
4A44-150
4A44-200
M27/332-09
M27/333-09
M27/334-09
M27/335-09
M27/336-09
M27/337-09
M27/337-18
60 V Parallel
120 VCT Series
0.11
0.16
0.41
0.82
2.00
2.50
3.53
0.05
0.08
0.20
0.41
1.00
1.25
1.66
1
2
3
4
5
6
7
0.26
0.30
0.47
0.77
1.6
2.0
2.2
4A60-7
4A60-10
4A60-25
4A60-50
4A60-120
4A60-150
4A60-200
M27/332-10
M27/333-10
M27/334-10
M27/335-10
M27/336-10
M27/337-10
M27/337-19