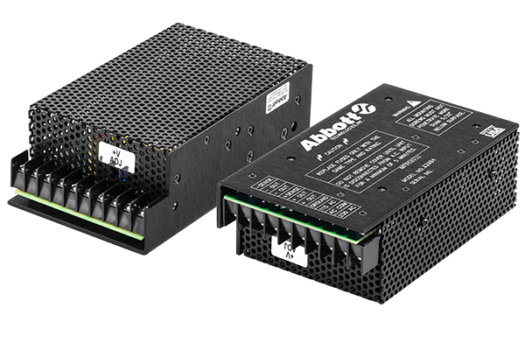 AC to DC Power Supplies
ZB Series
Category

AC to DC Power Supplies

Type

Industrial

Power

120 Watts
ZB Series Introduction
The ZB Series is a pulse-width modulated, forward converter power supply using a single switching transistor at a frequency of 38 KHz. It is designed and manufactured to deliver reliable, regulated power for compact electronic systems that must provide long-term, trouble-free performance.
Quality components and judicious design provide long life expectancy and a MTBF of 135,540 hrs. calculated per Mil-217D at 25°C ambient, ground-benign environment. Premature saturation of the power transformer and failures due to mismatched transistors are avoided by the single transistor design.
The main control IC is a hermetically sealed monolithic component. All power semiconductors are metal-encapsulated. Low ESR output capacitors are used exclusively.
All models include soft start, over voltage protection, and direct output short circuit protection.
Remote sensing and open lead protection is standard. Power supplies can be operated in parallel. (Contact factory for details.)
Key Features
DUAL INPUT 115/230 VAC
NON-CROWBAR INTERNAL OVP is standard
HIGH EFFICIENCY Up to 80%
HIGH OPERATING TEMPERATURE 100% power up to 80° C
LOW EMI Meets FCC20780, Class A
Legacy Model Still Fully Supported
Specifications
AC INPUT

90 to 132 and 180 to 265 Vrms, 47 to 400 Hz, single phase. Dual input selectable.

EFFICIENCY

75% typical, 70% minimum.

LINE REGULATION

0.12% for full input change between 90 and 132 or 180 and 265 Vrms. Temperature and load constant.

LOAD REGULATION

0.2% for change from no load to full load (100%) with line constant.

RIPPLE AND NOISE

50 mV peak-to-peak typical; 100 mV p-p maximum measured with a 25 MHz bandwidth.

STABILITY

Output voltage changes less than ±0.05% for 24 hours following initial warm-up period.

LOAD TRANSIENT RESPONSE

For recovery to within 1 % of nominal voltage set point, 200 microseconds maximum after 50% load change.

LOAD TRANSIENT OVERSHOOT

Maximum voltage deviation is 5% from nominal voltage set point.

HOLD UP TIME

20 milliseconds minimum after nominal ac input voltage is lost at full load, 50 milliseconds typical at half load, 100 milliseconds typical at quarter load.

ISOLATION




INPUT TO OUTPUT

1000 VDC

INPUT TO CASE

1000 VDC

OUTPUT TO CASE

500 VDC

INSULATION RESISTANCE

50 megohms minimum between input and output, input and case, and output and case when measured at 50 VDC.

INPUT PROTECTION

Internal fuses, 115V 5 amp. 230V, 2.5 amp.

SHORT CIRCUIT PROTECTION

Each unit is completely protected against a short circuit of any duration. The current limit circuit nominally is set at 120% of full load to reduce voltage. The output voltage automatically restores to nominal when the short is removed

REMOTE ERROR SENSING

The regulator circuit monitors the voltage directly at the load using extra "Sensing" leads. The resulting circuit action compensates for a DC voltage drop up to 0.3 volts in the load leads.

Temperature Range

Operating 0°C to + 85° C. (See Cooling Requirements.) Storage temperature -40° C to 85° C. Operating temperature -20°C to 85°C available at extra cost.

TEMPERATURE COEFFICIENT

0.01% per degree centigrade typical, 0.03% per degree centigrade maximum.

MEAN TIME BETWEEN FAILURE (MTBF)

135,540 hours calculated per MIL-STD-217D at 25°C ambient, ground-benign environ­ment

Electromagnetic Compatibility

Meets FCC20780, Class A

CONNECTORS

Additional Termination Options Available upon Request

STANDARD OUTPUTS (VDC)

5, 6, 10, 12, 15, 18, 20, 22, 24, 28, 30 (Additional Voltages Available upon Request)

*Voltage is continuously adjustable ± 5% by means of an externally accessible screwdriver adjustment potentiometer.
Mechanical Drawings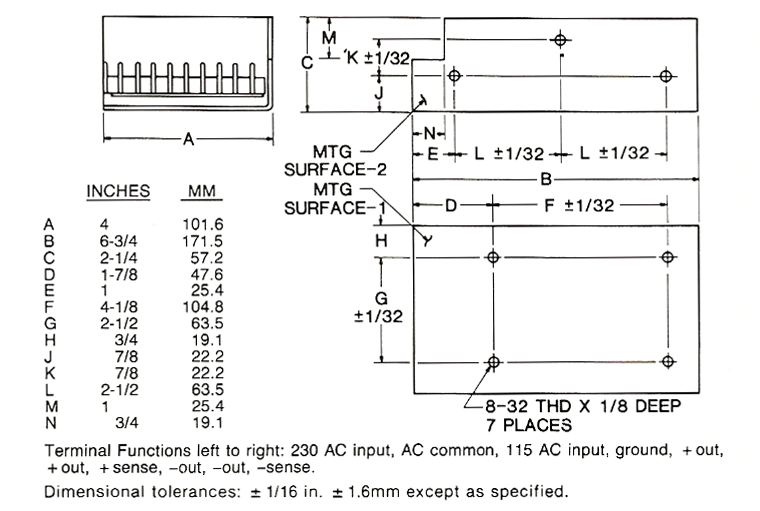 Output and Naming Convention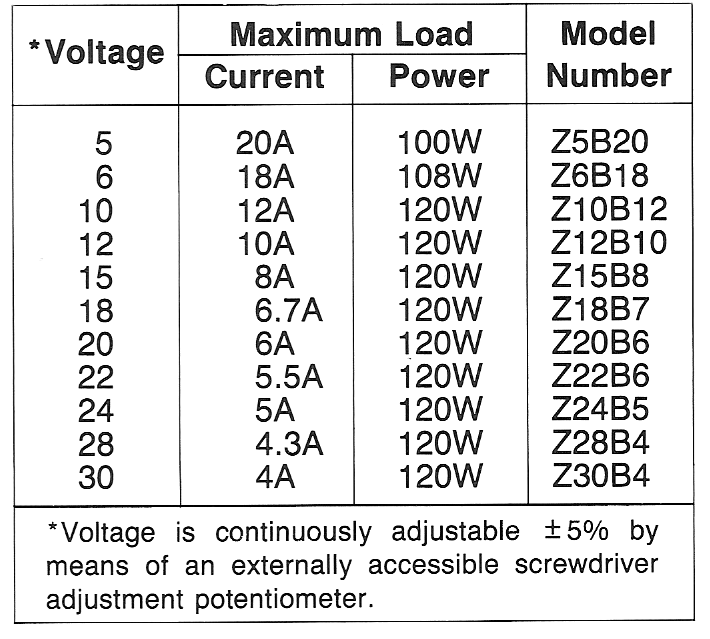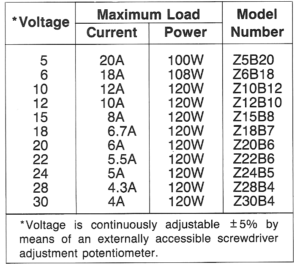 ZB Functions and Connections
Terminal Functions left to right

230 AC input, AC common , 115 AC input, ground, +out, + out, + sense, -out, -out, -sense.