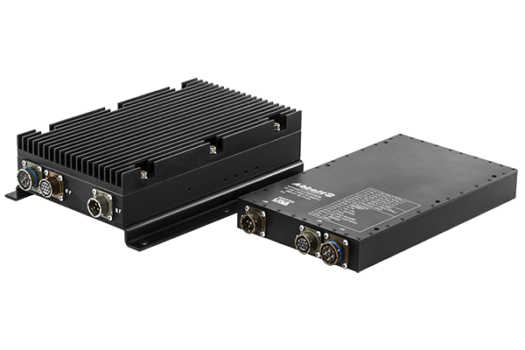 AC to DC Power Supplies
CM500 Series
Category

AC to DC Power Supplies

Type

Harsh Environment Switchers

Power

500 Watts
CM500 Series Introduction
High Efficiency, Low Profile, Customer Configurable.
Currently serving in many active programs, the CM500 Series features Power Factor Correction and is designed to perform in extreme environments. Meets MIL-S-901 High Impact Shock, MIL-STD-810 Environmental Requirements. Meets MIL-STD-704, MIL-STD-1399 Input Requirements.
Fully Compliant with MIL-STD-461 CE101, CE102 EMI Requirements (RE102 Compliant with Shielded Cables or Optional EMI Filter Output Connector).
This series is IP65 sealed (IP67 available) and features MS3470 connectors as standard.
This series' standard configuration features Over-Temperature Protection, Short Circuit Protection, Remote Error Sensing, Control Features, and Built-in Test Features.
This unit is Factory Configurable both electrically and mechanically to best fit your application.
Key Features
Power Factor Correction
Fully compliant with MIL-STD 461 CE101, CE102
FCC 20780 class A EMI Compliance
Meets MIL-STD-1399 Type I Section 300 Spike Voltage Test
Meets MIL-S-901 High Impact Shock
Meets MIL-STD-810 Environmental Requirements
Meets MIL-STD-167 Vibration Requirements
Fully Sealed to Meet IP65 (IP67 Available)
Specifications
AC INPUT

95-260 VAC, 47-440Hz, Single Phase
Power Factor Corrected
Meets MIL-STD-1399, Section 300, Type 1 Requirements

EFFICIENCY

80% Minimum (90% Typical, 28 VDC Model at 100% Load)

LINE REGULATION

±1% of Nominal over the Full Range of Line Input Voltage

LOAD REGULATION

±1% for Change from no Load to Full Load

RIPPLE AND NOISE

Peak-to-Peak Combined Ripple and Noise does not Exceed 2% of Nominal Output Measured with a 20 MHz Bandwidth

ISOLATION

INPUT TO OUTPUT

1500 VDC

INPUT TO CASE

1500 VDC

OUTPUT TO CASE

500 VDC

INPUT PROTECTION

Internal Fuse. In-rush current limiting.

SHORT CIRCUIT PROTECTION

Each unit is completely protected against a short circuit of any duration. The current limit circuit nominally is set at 120% of full load to reduce voltage. The output voltage automatically restores to nominal when the short is removed

REMOTE ERROR SENSING

Standard

CONTROL FEATURES

INHIBIT (TTL LOW = TRUE)
Standard TTL, 3.3V Available upon Request

BUILT-IN TEST FEATURE

DC OK (AC OK Available upon Request)

Temperature Range
(No Power Derating)

Storage, Transport and Handling:
-50°C to + 85°C
Ambient Temperature:
-40°C to 70°C
Baseplate Temperature:
-40°C to +70°C

Over-Temperature Protection

Output shut down if maximum case temperature limit is exceeded

MEAN TIME BETWEEN FAILURE (MTBF)

>100,000 Hours (calculated per MIL-HDBK-217Fn.2/25C/Full Load Ground Benign)

Electromagnetic Compatibility

Meets the following MIL-STD-461 requirements: CE101, CE102

CONNECTORS

J1 Output: MS3470W14-4S
J2 Input: MS3470W12-3P
J3 Signal: MS3470W12-10S
Electroless Nickel, PTFE, and Additional Connectors Available upon Request

STANDARD OUTPUTS (VDC)

5, 12, 13.6, 15, 24, 28, 48 (Additional Voltages Available upon Request)
Options include Droop (Zero Wire) Current Sharing & Internal Oring Diode)

MATERIAL

Sealed Aluminum Alloy 6061-T6 Case

FINISH

Black 27041
Sand 33303
Green 383
Gray 151
Options include Heatsink, Mounting Bracket, and Dust Caps

ENVIRONMENT

Fully Sealed to Meet IP65, IP67 with M Configuration
Meets MIL-S-901 (High Impact Shock)
Meets MIL-STD-167 , Type 1 requirements
Meets Applicable MIL-STD-810
Power supply operates without any evidence of degraded performance in non-condensing relative humidity up to 95%
Mechanical Drawings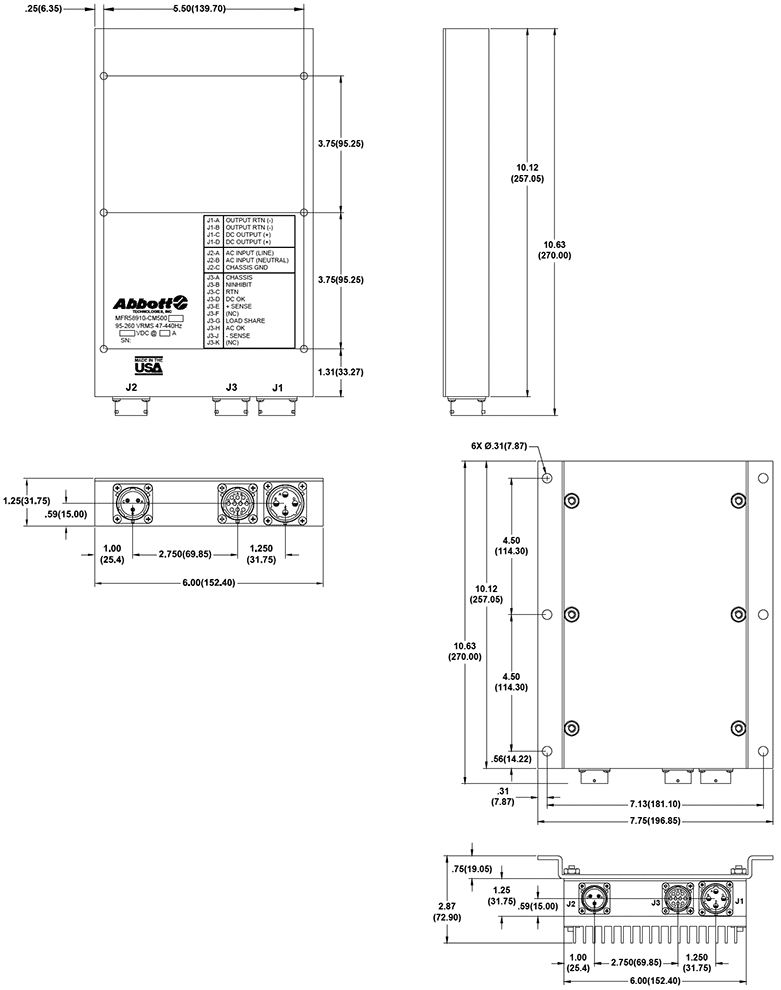 Output and Naming Convention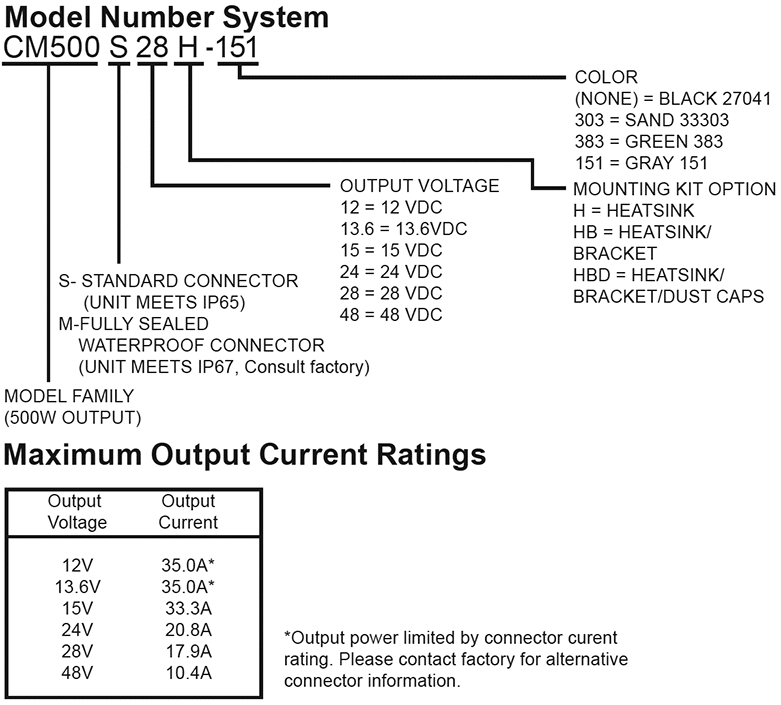 CM500 Functions and Connections
J3-A CHASSIS GROUND

Internally wired to chassis of unit.

J3-B INHIBIT

Inhibits output of unit when pulled low (connected to J3-C Return terminal).

J3-C RTN

Return Pin for all J3 functions.

J3-D DC OK

+5VDC Signal (with respect to J3-C Return) when DC Output is within range. Pulls to active low (20mA maximum sink current) when DC Output is outside of Nominal Range.

Optional +3.3V, +12V signals available


J3-E +SENSE

Positive Sense Line provides point-of-use output voltage feedback signal to unit when tied to (+) side of output load to compensate for voltage drop of output cables under load.

(+) and (-) sense lines should be routed as a twisted pair to mitigate pickup of ambient electrical noise (EMI).

Sense lines must be connected on power supply side of any output protection devices, fuses, circuit breakers, switches, relays, etc which may interrupt DC Output Current Path.


J3-F (NC)

No Connection

J3-G LOAD SHARE

Load Share Signal connects to load share terminal of additional unit(s) connected in parallel.

Forces equal sharing of output load current.

Return terminals (J3-C) of load-share unit(s) must also be mutually connected

Load share and return wires of parallel load-share units should be routed as twisted pair.


J3-H AC OK (Option)

Optional AC OK Signal is +5VDC signal (with respect to J3-C Return) when AC Input is within range. Pulls to active low (20mA maximum sink current) when AC Input is outside of nominal range.

Optional isolated 150-Mos output available.


J3-J -SENSE

Negative Sense Line (See J3-E above).

J3-K (NC)

No Connection
Standard Power Supply Notes
Abbott AC-DC switchers are designed to operate in a rugged military environment where a high degree of isolation, regulation and thermal performance is required. The extreme low-profile of these modules makes them an ideal choice in applications where space is limited, and reliability is a chief concern. These switchers represent a cost-effective, off-the-shelf alternative to costly DC-DC arrays . The units are fully compliant with MIL-STD 461D, CE101, CE102 and also meet MIL-S-901(high impact shock), MIL-STD-810F and MIL-STD-1399, Section 300, type I requirements (spike voltage test).
Among key standard features are input power factor correction, full cycle holdup during power interruption, soft start/controlled inrush, and on-board in-line fuse. These state-of-the-art AC-DC switchers are well-suited for airborne, ground or shipboard systems.
Key Terms
Ambient Temperature – the temperature of the still air surrounding a power supply, measured a minimum of 4 inches (10.2 cm) from the supply. Note that these Abbott supplies are conduction-cooled and that temperature specifications refer to baseplate temperature, not ambient temperature.
Efficiency – the ratio of total output power, expressed as a percentage. Efficiency must be
specified at a specific combination of load and input voltage.
Isolation – the electrical separation between the input and output of a power supply due primarily to the power transformer. The isolation is a function of materials and spacing throughout the supply.
Line Regulation – the maximum change in output voltage, expressed as a percentage of output voltage, that occurs as the input voltage varies over its specified limits, with load and temperature constant.
Load Regulation – the change in output voltage, expressed as a percentage of output voltage, that occurs as the load changes from minimum to maximum, at constant line and constant temperature. Load change may be specified for other than no load to full load as, for example, 50% load to full load.
Mean Time Between Failure (MTBF) – the failure rate of a power supply, expressed in hours, predicted as prescribed by MIL-HDBK-217.
Periodic and Random Deviation (PARD), or Ripple and Noise – the unwanted periodic (ripple) or aperiodic (noise) deviation on the power supply output voltage from its nominal value. Ripple is a function of the input line and switching components. PARD is expressed in millivolts peak-to-peak or rms, at a specified bandwidth (typically 20 MHz).
Over-Voltage Protection (OVP) – a protective feature that shuts down a power supply (reduces the output voltage to a minimal level) to prevent damage to the load when the output voltage exceeds a predetermined limit.
Short-Circuit Protection – a protective feature that limits the output current of a power supply to prevent damage to the supply caused by short circuits. There are two types of short-circuit, or overload, protection depending on the power supply:
Foldback Current Limiting protects switching regulator power supplies from damage when an overload occurs by reducing, or folding back, both the output voltage and current as the load.
resistance ranges from maximum to short circuit.
Constant Limiting Current protects power supplies from damage when an overload occurs by holding the output at a constant predetermined maximum current level.